What a terribly busy few weeks we've had and it's great to see all the amazing feedback streaming in. We've been hard at work, fixing those bugs, jumping in and playing with testers and listening to your feedback.
Recently we've been busy talking to our first Paragon Collaborator pack supporters who took a spin in the designer's chair to design some great new personalized additions to City of Steam. To give additional thanks for their early support we decided to actually up the offering for our first 10 Paragon Collaborators. The choice lies between making a new piece of non-exclusive equipment, non-exclusive weapon or shield (with the ability to add all those cool mods) or two new non-exclusive accessories (ring, necklace, watch, badge, belt). Bonuses, name, description are up to the Paragon too, but we'll obviously provide support and suggestions! We have to limit this as the armor bundle is nearing its size limit, so if you've been aching for some awesome (and specific) new item, this is your chance to make it happen.
For those of you who may not know what a Paragon Collaborator is, they are those who have supported City of Steam game development by purchasing the highest level of Collaborator Packs we offer. Worth checking out, not only for your own item design, but a slew of other great City of Steam swag! (Coming on too strong? Well, we do need all that coffee to keep going…)
Ok, we all know you're really here for a peek at what we have so far… let's get to it then, shall we? The following are all in progress and as they move through the pipeline we'll post more about them. Right now the early concepts are pretty much finished.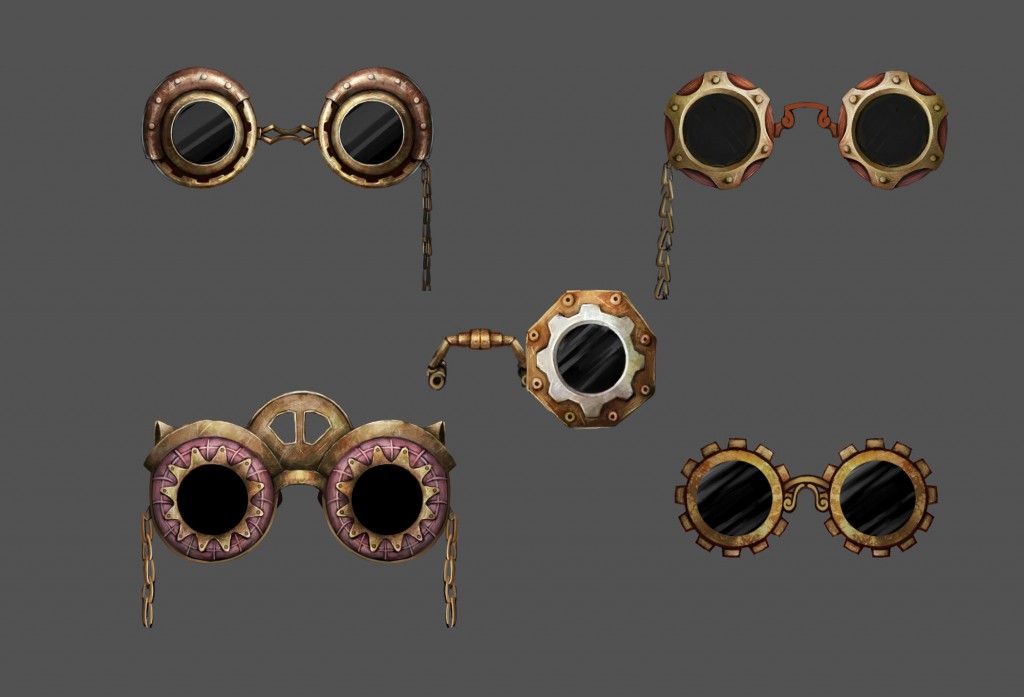 First we have pince-nez shades, from Nexus Founder Yughara. The idea behind them, aside from looking fantastic, is that they would likely be for higher levels, possibly most beneficial for Arcanists (details still being ironed out at this time). Also, Yughara would like to see those cogs spin; animated equipment? We'll have to see!
From another Nexus Founder, LockeslyLCrit, we have a tricorne hat with a lot of history behind it.
Based on one of LockeslyLCrit's previous roleplaying characters, Jonathan Graves, the hat has interesting reasons for having copies of it floating around the Mechanism (and hardly innocent ones). Let's just say that Graves enjoys more than one form of adventuring… Perhaps he will post more about it and tell us all more about this intriguing character… *hint hint nudge nudge* Also, national signet rings, Dave decided to throw these in too, since, well, they are awesome.
Ostenian Signet Ring Aven Signet Ring Stoigmari Signet Ring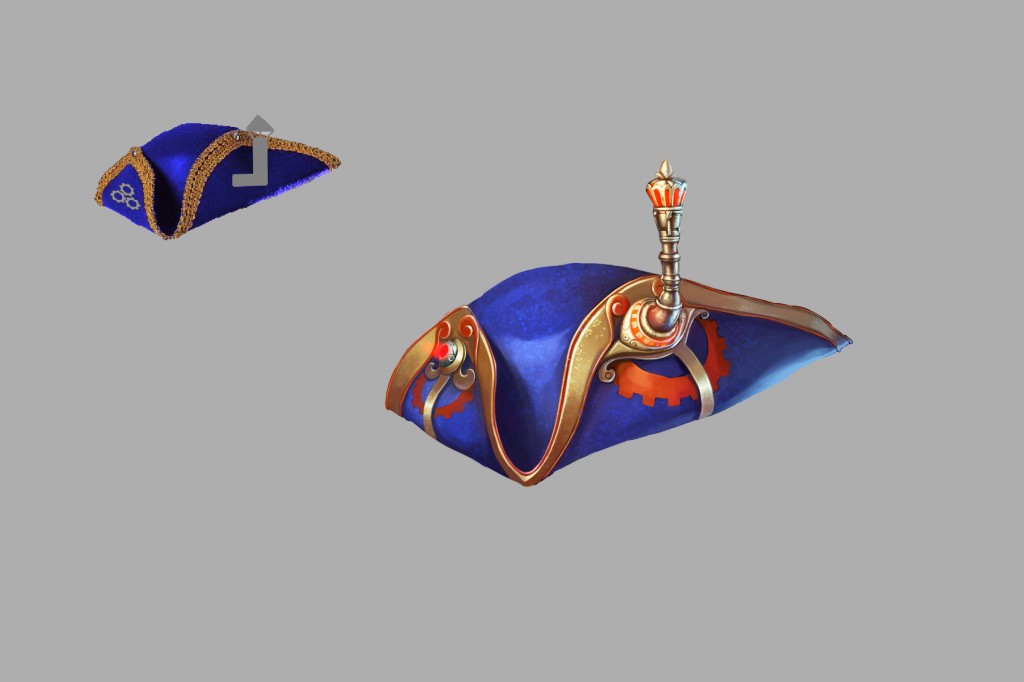 Edit: We finished off the colored concept of Graves' hat.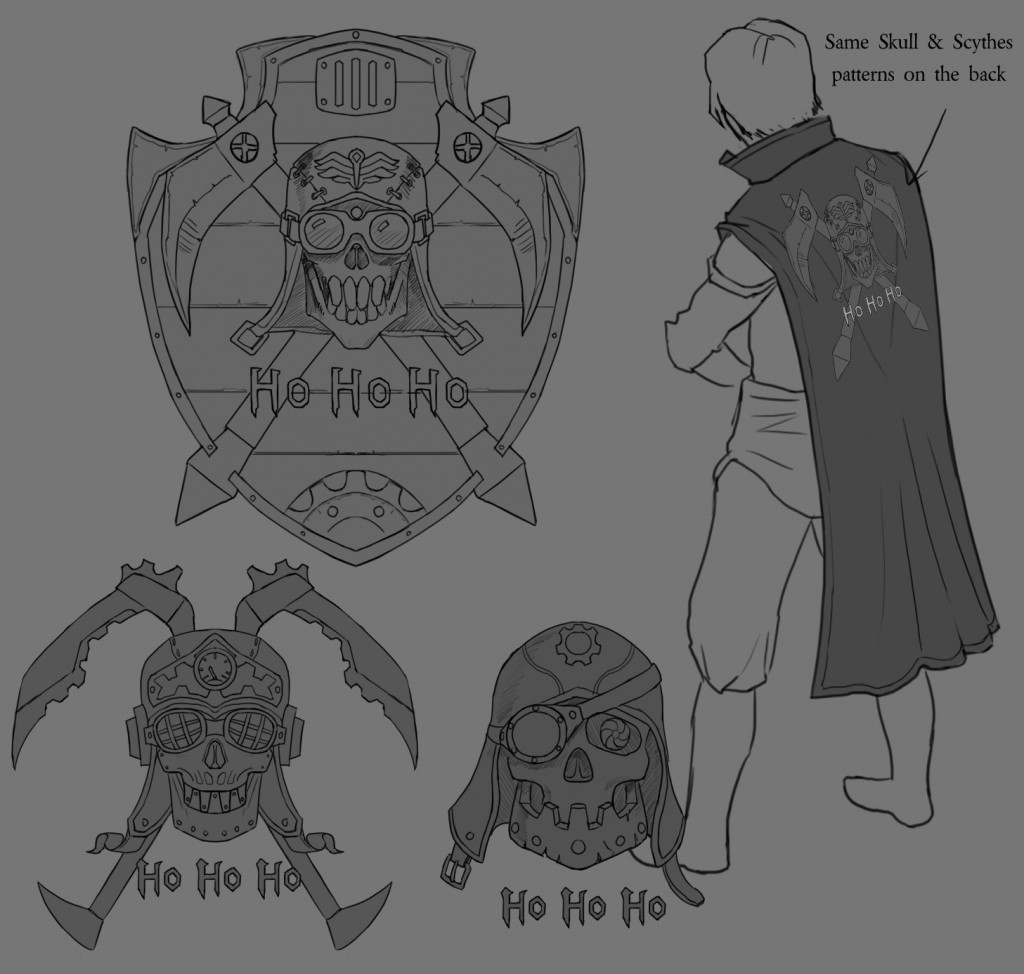 Founder christmas.bob provided the following for us to go on and then we sent him the above concept to get his help on colors.
Christmas.bob:
Skull shield and cloak.
Cloak is body armor, and must be rigid on the back.
Some dark colored wood for the shield.
Brass edges with some darker nail.
Golden plate above the skull.
Stainless steel cog with dark nails.
A bit lighter wood for the handles.
Sharp looking scythes =)
Copper nail for the scythes.
Gold tip on scythes.
Shiny brass text!
"Dirty" white skull with brown leather cap, some shades here and there for the cap.
Dark leather stitches.
"Stainless steel" feeling of the dangly metal "rings".
Gold buckles on goggles.
Copper or brass around the glass.
He really has a thing for that skull & scythes motif. And we love it! The concepts for this are still in their early stages, but with a little bit of imagination, it's not hard to picture them in-game. I want that cape…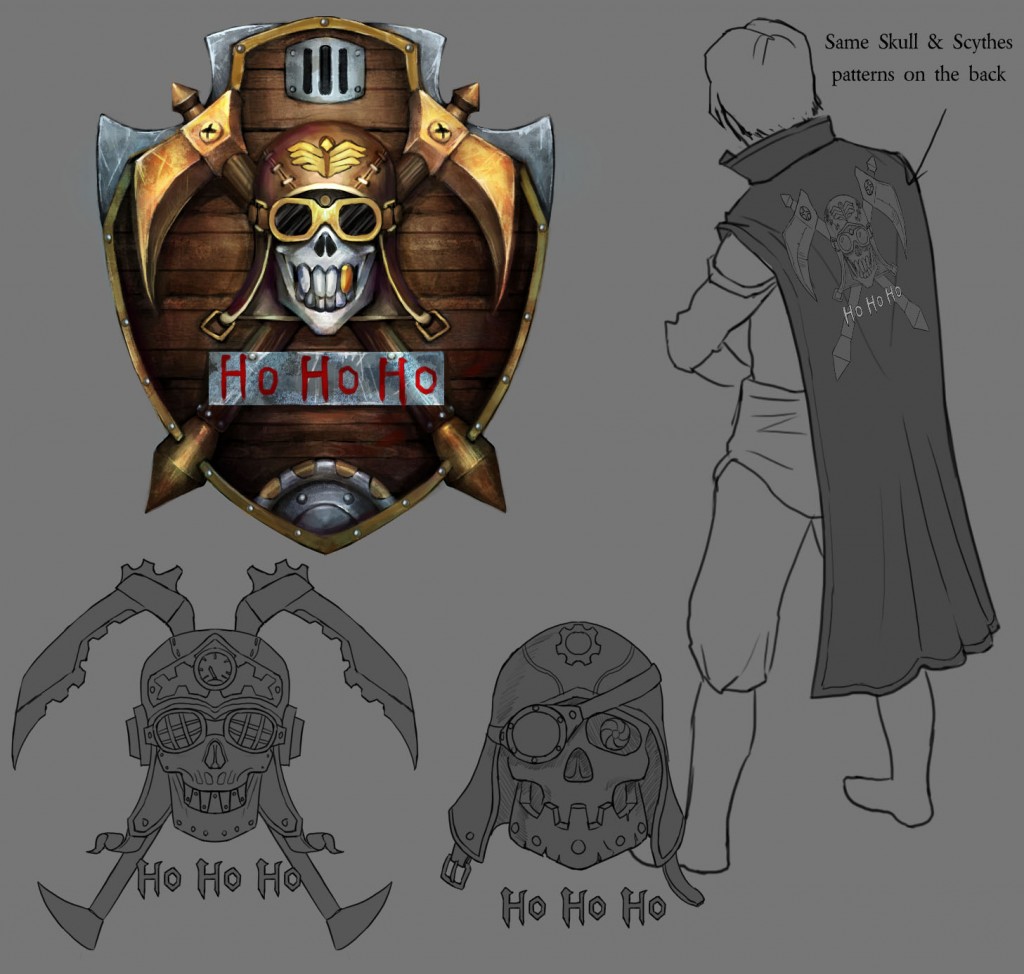 Edit: We just finished coloring in the awesome shield concept.
From Nexus Founder Foustus, the gauntlet and shield set here speak for themselves. Tell me you wouldn't follow a leader wielding these babies? Foustus knew exactly what he wanted and even provided the following design scribbles himself.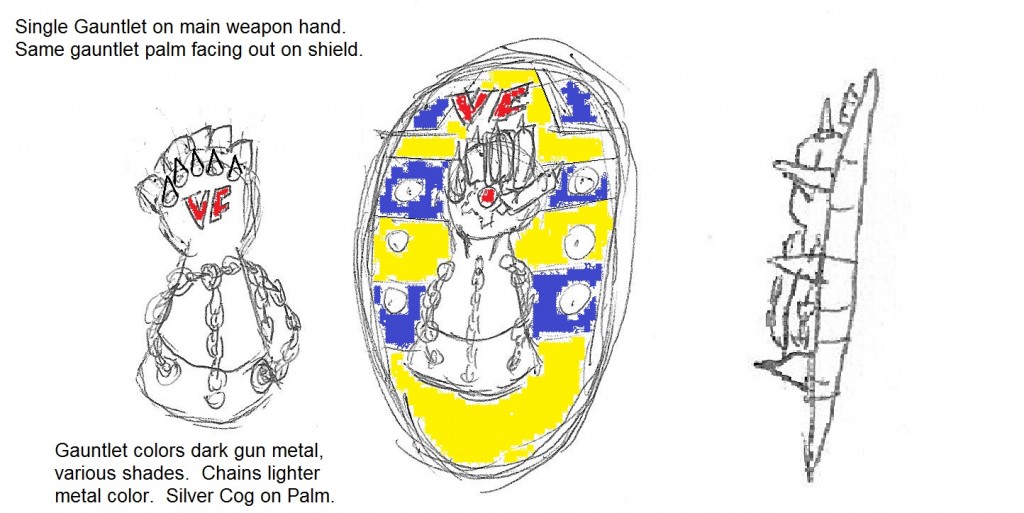 Aha, maybe we should hire him on for new concepts? This definitely helped us push the concept along. We were then able to show Foustus the uncolored designs so that we could ask which colors he envisioned.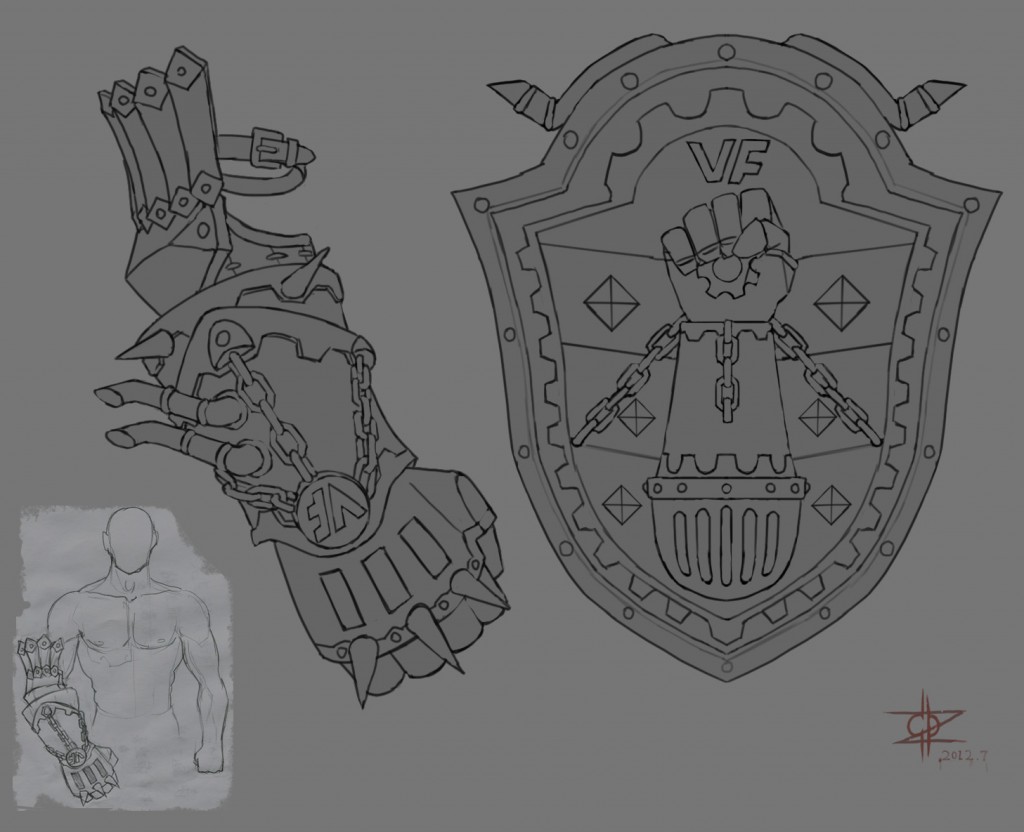 We then proceeded to color them in and we do say… they turned out great. I mean who wouldn't want a huge engaging FIST on their armor.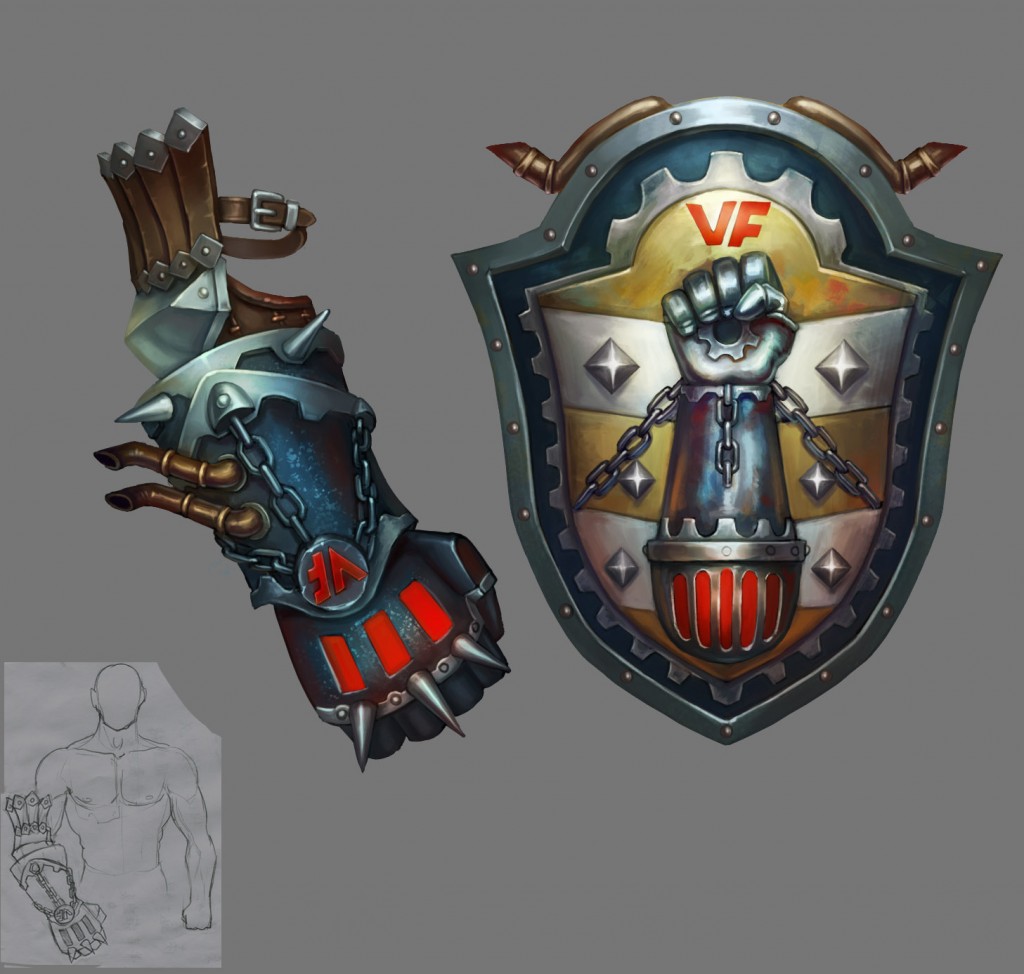 So what did you think? Tempted to throw in some of your own ideas? That Paragon Pack is right there, just waiting to be picked up… We want to make these items for you, so be ever so kind and lend a hand (but only if you get a Paragon Pack, hah!). Remember the first 10, will have the additional options as these lucky supporters. After that we'll only have the resources available to create some awesome new ITEMS you design. Still great fun, obviously.
Thanks again for all the great design ideas, Founders!
- City of Steam Dev Team
Recommended Reading